Shopping for healthy ingredients can be daunting. Even if you stick to the perimeter of the store, where you can gather your fresh produce, dairy products, and meat (or better yet, shop at a farmers' market), what about when you need to venture into the center aisles, where you'll find packaged and processed goods for, say, condiments or chicken broth? Which deli meat is nitrite free? Which veggie burgers aren't chock full of filler?
Some of the food products out there are downright scary, so to help you navigate the grocery store minefield—dangerous territory that extends to the deli section and the dairy—BeachBody sent some of their staff experts out to examine a variety of brands, in hopes of finding the best food products* available at most supermarkets or online. An interesting discovery during their investigation: Not all food products created by the same brand earned our thumbs up. Some were okay, others were not. These suggestions are not exhaustive—there are a lot of great products out there. If you can't find the products mentioned below, read the label first.
CONDIMENTS & SPREADS
Ketchup
Ketchup, while delicious, is not the best condiment for you. By nature, it contains a sweetener—whether that's sugar, cane syrup, or (gasp) high fructose corn syrup.
Our Pick: Whole Foods' 365 Organic Tomato Ketchup ($1.99/24 oz.)
The Whole Foods brand of ketchup contains only the ingredients ketchup needs to be "ketchup"—tomato puree, evaporated cane juice, white vinegar, salt, onion powder, and spices. If you don't have a Whole Foods nearby, Heinz's Simply Heinz® is the next best option, as it contains sugar instead of high fructose corn syrup. The best way to know exactly what is in your ketchup is to make your own. Try this easy healthy ketchup recipe.
Mustard
Mustard is an almost calorie-free way to give a flavor boost to sauces and proteins. But some mustards also include "natural flavors." And because natural flavors are not always "natural," we're going with the one that doesn't have them.
Our Pick: Morehouse® Yellow Mustard ($2.49/20 oz.)
Morehouse's Yellow Mustard contains only distilled vinegar, mustard seed, sea salt, turmeric, paprika, and spices. We're okay with "spices" being left a mystery because food labeling laws require these ingredients to be from this list of seasonings.
Mayonnaise
Real mayonnaise is made from eggs, oil, and sometimes lemon juice or vinegar. Most store brands stray pretty far from this recipe. Miracle Whip® adds high fructose corn syrup, natural flavor, and potassium sorbate (a synthetic preservative that is also used in industrial coatings). Best Foods/Hellmann's® adds calcium sodium EDTA.
Our Pick: Spectrum Organic Mayonnaise ($3.99/11.25 oz.)
Spectrum makes several mayonnaises that meet our high standard. All of the ingredients are organic and are actually food.
Hot Sauce
Hot sauce adds flavor, but can also add unnecessary sugar or sodium.
Our Pick: Tabasco® Pepper Sauce ($2.49/2 oz.)
It doesn't take a lot of ingredients to turn up the heat. Classic Tabasco only has three ingredients: red peppers, salt, and distilled vinegar. Many Mexican hot sauces come in a healthy(ish) second. All you need to do is read the ingredients list.
Soy Sauce
There's no getting around the fact that soy sauce is loaded with sodium. But, grab a random bottle from the shelf and it might also include modified food starch or sugar.
Our Pick: Kikkoman® Low-Sodium Soy Sauce ($3.49/10 oz.)
This soy sauce is tasty, though don't mistake it for a low-sodium food! We don't love that it includes sodium benzoate and lactic acid, but we've seen worse. If you have a Trader Joe's® nearby, theirs is best as it contains only water, soybeans, wheat, and salt. Plus, it has 460mg of sodium (vs. Kikkoman's 575 mg).
Peanut Butter
Peanut butter that's perfectly smooth and spreadable (even the crunchy kind) is made with added hydrogenated vegetable oil or palm oil (and usually a ton of sugar). Don't want to stir your all-natural peanut butter every time you eat it? We don't either. Stir it once, and then store it in your fridge.
Our Pick: Laura Scudder's® All-Natural Peanut Butter ($3.29/16 oz.)
Laura Scudder's All-Natural Peanut Butter contains only peanuts and touch of salt. It is also available in organic and unsalted varieties.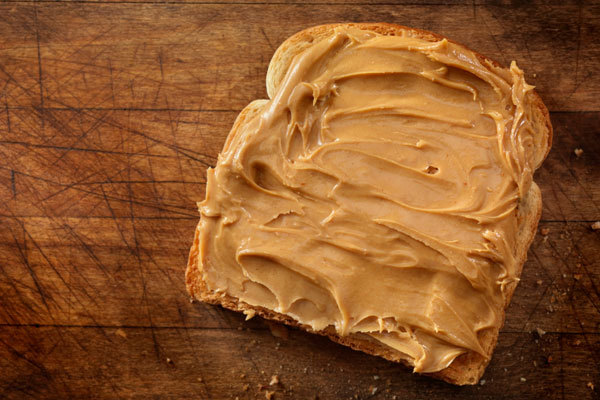 Jam
The jam, jelly, and fruit preserves aisle is full of trouble. Reach willy-nilly for any jam jar on the shelf and you might be picking up a jar of fruit laced with high fructose corn syrup, tons of added sugar, aspartame, and Red 40.
Our Pick: St. Dalfour® ($3.99/10 oz.)
St. Dalfour is pure, old-fashioned fruit spread: fruit, fruit juice, and pectin (a natural thickener). A widely available alternative, Bonne Maman® Fruit Preserves ($4.99/13 oz.), gets high marks from us for its real fruit flavor and similarly simple recipe (they sweeten with sugar instead of juice).
Salad Dressing
The best way to have healthy salad dressing is to make it from scratch. Otherwise you risk ingesting a wide range of nasty stuff like corn syrup, artificial colors, and phosphoric acid—a tangy-tasting corrosive chemical. We found all of these ingredients in Kraft Free Caesar Italian).
Our Pick: Annie's Naturals® Balsamic Vinaigrette ($3.99/8 oz.)
Annie's Naturals uses common, known ingredients: water, oil, vinegar, honey, mustard, and salt.
DAIRY & NON-DAIRY
Greek Yogurt
Greek yogurts are made from the same stuff as regular yogurt, are strained to achieve a thicker consistency, and contain more protein. For the most part, they all get our stamp of approval.
Our Picks: Fage® Total 0% Plain ($6.99/32 oz.) or Chobani® Nonfat Plain ($6.49/32 oz.)
The key is to buy plain Greek yogurt and add your own fresh fruit or honey. Here's why. In those little pre-flavored cups, there's a lot of added sugar. 8 ounces of plain nonfat Fage has 100 calories, 23 g of protein, and 6 g of sugar (from the milk). One 5.3-oz. container of Blueberry Fage has 120 calories, 13 g of protein, and 16 g of sugar (from the milk, blueberries, and added sugar). Eating more yogurt and consuming more protein, fewer calories, and less sugar sounds good to us.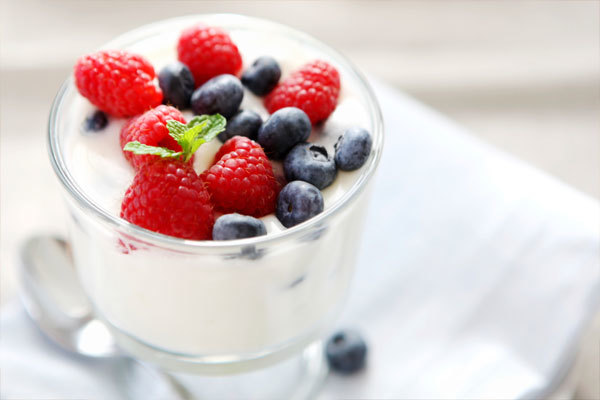 Regular Yogurt
Once again, plain is best. The flavored yogurts we inspected contained a lot more than the fruits showcased on the labels. Light yogurts were even worse with ingredient labels that listed aspartame, gelatin, and modified cornstarch.
Our Pick: DANNON® all-natural plain nonfat yogurt ($4.19/32 oz.)
DANNON plain nonfat yogurt contains 100 calories and 11 grams of protein per cup. The only ingredients? Cultured Grade A nonfat milk, live active cultures (L. bulgaricus, S. thermophilus, L. acidophilus, bifidus, L. casei—the bacteria strains that make yogurt yogurt), and pectin (a thickener made from fruit).
A side note: Though we mostly recommend the low-fat and nonfat dairy products in our guides and recipes, it's OKAY to eat full-fat dairy products. They're less processed than their nonfat cousins.
Cottage Cheese
Nearly every Beachbody® program nutrition guide includes cottage cheese, because it is a low-calorie, protein-rich, versatile anytime snack. But some brands of low-fat cottage cheese also contain suspect ingredients like modified food starch, mono- and diglycerides, and artificial color.
Our Pick: Daisy Low-fat Cottage Cheese ($3.29/16 oz.)
Daisy Low-fat Cottage Cheese contains only milk, cream, salt, and vitamin A palmitate (a plant-based source of vitamin A added to replace the nutrients lost when fat is removed). Want to avoid the palmitate? Eat the full-fat version.
Cream Cheese
Spreadable cream cheese packs big flavor and protein in just a tablespoon or two. But some brands, like Weight Watchers®, contain extra ingredients like maltodextrin and inulin (a sweetener). Flavored cream cheeses often contain artificial flavors and colors.
Our Pick: Organic Valley® ($4.29/8 oz.)
Organic is always best, especially when it comes to dairy. Organic Valley cream cheese is made from organic milk, organic cream, organic lactose powder, salt, and organic locust bean gum—a natural thickener made from carob seeds. If you can't spring for organic, we also recommend Philadelphia® Original Cream Cheese ($2.29/8 oz.).
Half and Half
Technically, half and half is a blend of cream and milk, but many brands add color, preservatives, corn syrup, and mono- and diglycerides. Fat-free versions replace cream with fillers, emulsifiers, and chemicals.
Our Pick: Horizon Organic® Half & Half ($2.99/pint)
Horizon Organic Half & Half contains only organic Grade A whole milk and organic cream. If you have a hankering for flavors, try adding a few drops of all-natural vanilla, rum, or hazelnut extract instead of flavored "creamers."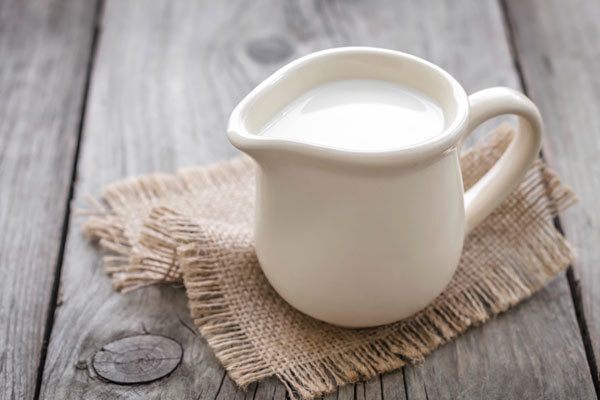 Soy Milk
Ever looked at the ingredient list on non-dairy milk? There's a lot there that might cause your eyebrow (and your blood sugar) to rise, including all kinds of sugars and preservatives.
Our Pick: Organic Edensoy® ($2.39/32 oz)
Organic Unsweetened Edensoy contains two ingredients: water and organic soybeans. Plus, it has 12 grams of protein and only 5 mg of sodium per 8-oz. serving (compared to 7 g and 70 mg in Silk®).
Almond Milk
With just 30 calories per serving, almond milk has one-third the calories of nonfat milk. Made from scratch, it contains only almonds and water, but some brands' recipes include a long list of other ingredients, including sugars.
Our Pick: Pacific Almond Milk ($2.99/32 oz.)
This almond milk contains almonds, sea salt, vanilla, rice starch, carrageenan (from seaweed), and natural flavors. Plus, it's fortified with the same nutrients as milk. We'll take it.
Rice Milk
Rice milk is a simple beverage at its core. That's why we were surprised to see so many extra ingredients and sweeteners in some brands. However, unlike other milk alternatives, rice milk has low nutritional value and provides very little protein. It is not our first choice for your balanced diet.
Our Pick: Rice Dream® ($1.69/32 oz.)
Rice Dream has a handful of ingredients (water, brown rice, expeller pressed high oleic safflower oil, and sea salt), and we like that it's made from brown rice.
BREAD PRODUCTS
Bread
Many—though not all—breads that claim to be "whole-grain" contain processed flours, sugars, and dough conditioners, and that is just the beginning.
Our Pick: Food for Life® 7 Sprouted Grains Bread ($3.49/24 oz.)
Why? What's in it: brown rice, whole sprouted grains and lentils, wheat gluten, and sea salt. Everything is organic, and each slice has 80 calories, 3 g of fiber, 4 g of protein, and 0.5 g of fat. They also offer a gluten-free version. Another option? Freshly baked, whole-grain bread from your local bakery.
English Muffins
Thomas' whole wheat English muffins contain preservatives, artificial color, and a host of chemicals including azodicarbonamide, a bleaching agent that is used in plastics and which is banned for food use in—of all places—England!7
Our Pick: Food for Life 7 Sprouted Grains English Muffins ($4.59/6 muffins)
Like their bread, Food for Life's English muffins contain only organic sprouted grains, yeast, gluten, and salt. Half of one muffin has 80 calories, 4 g of protein, and 3 g of fiber.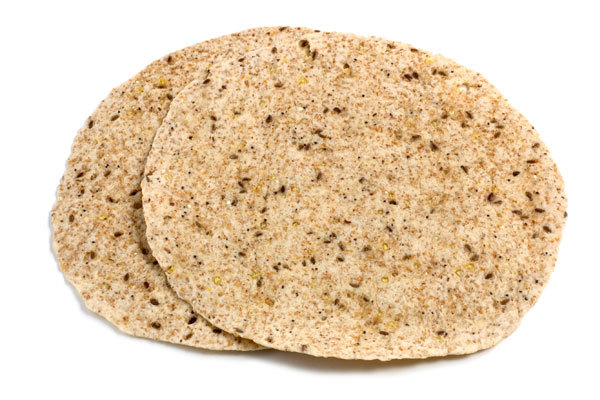 Whole-Grain Tortillas
Many whole-grain tortillas, like Mission® multi-grain flour tortillas, look deceptively healthy, but are made with evil hydrogenated oils, sugar, preservatives, and chemical dough conditioners.
Our Pick: Food for Life Ezekiel 4:9® Taco Size Whole-Grain Tortillas
Food for Life's tortillas are made from organic sprouted grains, seeds, lentils, water, sea salt, and nothing else. Their ideal size (80 calories, 3 g protein, and 2 g fiber) and clean ingredients list make them the healthiest choice for wraps and personal pizzas.
Hamburger Buns
Every hamburger bun we inspected contained a long list of undesirable ingredients like ethoxylated diglycerides, high fructose corn syrup, and chemical dough conditioners.
Our Pick: Food for Life Sprouted Whole-Grain Burger Buns
Food for Life is the clear winner of the bread category. Their buns are made from organic sprouted 100% whole wheat and 100% whole wheat flour (always look for the 100%). Or you can use freshly baked bread. Just check the ingredients before you purchase.
Cereal
We picked up nearly every box in the cereal aisle, reaching instinctively for cereals we thought were made with basic ingredients—they weren't—and ogling the crazy ingredient lists on some: brown rice syrup, cane syrup, high fructose corn syrup, preservatives, fillers, artificial colors, "coatings," refined flours.
Our Pick: Engine 2® Rip's Big Bowl ($4.99/13-oz. box)
This was our greatest find of the day. After giving up hope that an ideal breakfast cereal existed, we found this little red box and snatched one for "further research." Its hearty whole and sprouted grains and flakes did not disappoint. Their Triple Berry Walnut cereal contains real fruit (actual strawberries and blackberries!) that provides a hint of sweetness. There are no added sweeteners of any kind. They have a diet plan that we don't necessarily endorse for everyone, but we can't say enough good things about their cereal.
Frozen Waffles
When it comes to frozen waffles, we're not touching the highly processed yellow variety (seriously, they add artificial yellow color). But even some whole-grain waffles can add sugar and preservatives to your most important meal of the day.
Our Pick: Kashi® 7-Grain Waffles ($3.49/8 waffles)
We chose these because, while they do contain sugar from cane juice and molasses, two of their whole-grain waffles have more protein (4 g) and fiber (7 g) than other brands. Serve with fruit instead of syrup.
Pancake Mix
Tony Horton likens pancakes to eating birthday cake for breakfast. And it's no wonder why. Original Bisquick® is made from processed flour and partially hydrogenated oils. Top that with butter and maple syrup and you're on your way to fewer birthday cakes in the long run.
Our Pick: Baker Mills® Kodiak Cakes® ($5.99/24 oz.)
We were impressed by the 100% whole-grain flour, 7 g of protein, and 4 g of fiber per serving of Baker Mills Kodiak Cakes mix. Sweetened only with honey, it contains no preservatives or industrial sweeteners.
PROTEINS
Prepackaged Deli Turkey or Ham
Luncheon meats can be scary territory in the grocery store. What looks like sliced turkey breast is often poultry pieces that have been ground into a paste, processed with chemical binders and nitrites, flavored with corn syrup and artificial flavors, and molded into a cylinder, then sliced. Ew. What's the big deal about nitrites and why do we suggest all your meats be nitrite-free? Because nitrates and nitrites have been linked to increased risk of cancer, heart disease, and diabetes.
Our Pick: Applegate Farms®
Applegate's packaged deli products are made from cage-free animals that were never treated with hormones or antibiotics. Their meats have no nitrites or fillers and stick to the basics—sliced protein, water, salt, and carrageenan obtained from seaweed.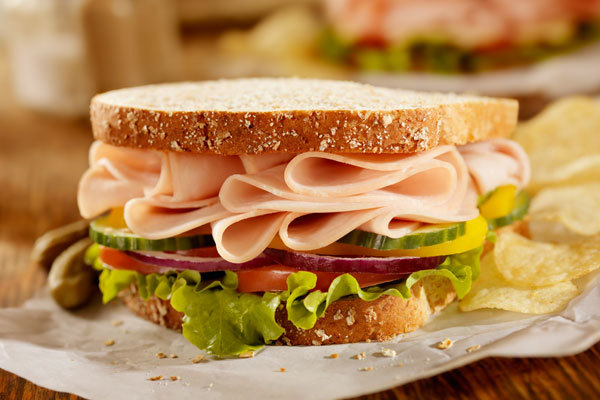 Vegetarian Burgers
A vegetarian diet is supposed to be good for you. Which is why some of the ingredients in veggie burgers were so shocking. Artificial flavor? Modified vegetable gum? Natural butter flavor?
Our Pick: Asherah's Gourmet Vegan Burgers ($4.99/4 burgers)
Made from organic quinoa, organic sweet potatoes—organic everything down to the spices. Each patty has 180 calories, 190 mg of sodium, 30 g of carbs, 5 g of fat, and 6 g of protein. Our second choice, Original Sunshine Burgers®, are also packed with organic goodness. These are made from sunflower seeds, so each burger is higher in fat and calories, but provides double the protein (350 calories, 21 g of fat, 12 g of protein).
Hot Dogs
Hot dogs are famously made from mystery meat. This takes on new meaning now that the world has been introduced to the horrors of pink slime and horsemeat. Then there are all the artificial flavors, preservatives, sodium, chemical fillers, and corn syrup.
Our Pick: Applegate Great Organic Beef Hot Dogs ($4.99/8 franks)
Applegate Farms links contain only organic grass-fed beef and organic spices. At 110 calories per link, 8 g of fat, and 330 mg of sodium—and the knowledge that their animals are cage- and crate-free—when it comes to hot dogs, these are a good choice.
DIPS, SAUCES, & SOUP
Hummus
Hummus is easy to make and we recommend that. Here's a healthy recipe for hummus that you can try. But if you're going to buy prepared hummus, selecting one that is close to how you would make it from scratch is best.
Our Pick: Haig's Hummus ($3.79/8 oz.)
Haig's original hummus contains garbanzo beans, tahini, lemon juice, water, garlic, spices, and salt. With four flavors to choose from, you won't get bored.
Applesauce
Applesauce is a tasty way to add fruit to your diet, as long as it's all-natural. Mott's® and Musselman's® add high fructose corn syrup and/or sugar to some of their applesauces.
Our Pick: Santa Cruz Organic® Applesauce ($3.89/23 oz.)
Apples are one the most insecticide-treated fruits, so you'll definitely want to buy organic. Santa Cruz Organic Applesauce contains only organic apples and vitamin C, for freshness.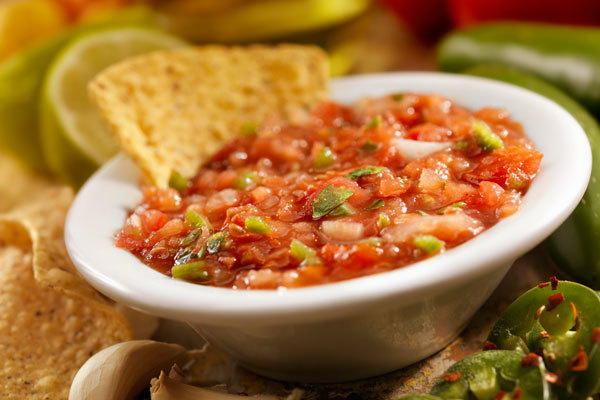 Jarred Salsa
Salsa is the healthy man's condiment of choice. But some are healthier than others. We passed on Pace® Picante Sauce because it has 250 mg of sodium per serving.
Our Pick: Newman's Own® Medium Salsa ($3.49/16 oz.)
Look for jarred salsa without any added sugar, excessive salt, or preservatives. We chose Newman's Own for its all-natural ingredients and lower sodium content (105 mg/2 Tbsp.). It does have added sugar, but only 1 g per serving.
Soup
Soup is filling, often low in calories, and can help you feel satisfied. But, canned soup can be extremely high in sodium, and contain ingredients like hydrolyzed corn protein. A classic like Campbell's® Regular Chicken and Rice contains MSG and mechanically separated chicken.
Our Pick: Amy's Light in Sodium Soups ($3.49/can)
From Butternut Squash to Minestrone to Chicken Noodle, all of these soups are made with the same ingredients your grandmother would put in soup—along with the occasional addition of cane juice. Each can has two servings.
COMPONENTS
Chicken Stock
Prepared chicken stock can be aggressively high in sodium and may even contain MSG! Not to mention corn syrup and artificial flavorings.
Our Pick: Pacific Organic Free Range Low-Sodium Chicken Broth ($3.99/32 oz.)
Making chicken stock at home is best. And it's not hard. But, if you have to buy one, Pacific Organic makes the best we found, even though it does contain "chicken flavor." Whatever that is.
Vegetable Stock
As with chicken stock, making your own is best and can be done with as little as an onion, some celery, a carrot, and water.
Our Pick: Kitchen Basics® Vegetable Cooking Stock, Unsalted ($3.99/32 oz.)
Made from just vegetables, it's hard to find a better option. Can't find it at your local store? It's available online.
Breadcrumbs
Do your breadcrumbs contain ammonium sulfate? Progresso's do. Besides being a dough conditioner, ammonium sulfate's other uses include plant fertilizer, herbicide, and fire extinguisher powder.
Our Pick: Ian's® Whole Wheat Panko Breadcrumbs ($3.59/9 oz.)
Ian's Whole Wheat Panko Breadcrumbs contain only unbleached whole wheat flour, malt extract, yeast, and sea salt. Basically, they're made of bread.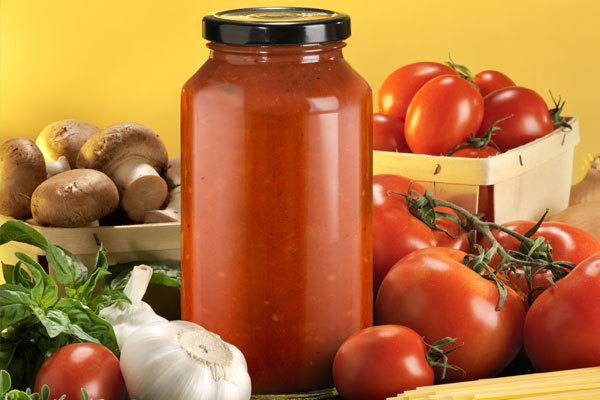 Marinara Sauce
If you can't find the time to make simple marinara sauce from canned tomatoes, make sure your jarred sauce is made from natural ingredients and is low in sodium and added sugars. Hunt's® Traditional Marinara Sauce sneaks in high fructose corn syrup, corn syrup, and sugar. Many jarred sauces cut corners by using soybean oil instead of olive oil.
Our Pick: Silver Palate® Low-Sodium Marinara Pasta Sauce ($5.29/25 oz.)
This award-winning marinara sauce has no added sugar or soybean oil. It has ingredients that should be in marinara sauce—tomatoes, olive oil, onions, carrots, and garlic—and is sweetened with pear concentrate instead of sugar.
Olives
Olives are high in iron and vitamin E and impart a nice umami to your salad or sandwich. Kalamata olives are higher in sodium than "black olives" but, unlike that popular variety, they don't contain ferrous gluconate, an additive that turns green or brown olives jet black and can upset sensitive stomachs.
Our Pick: Early California® Pitted Kalamata Greek Olives ($5.49/6 oz.)
Early California's Pitted Kalamata Greek Olives contain the essential ingredients: olives, water, salt, and red wine vinegar.
SNACKS
Crackers
Crackers can be packed with all sorts of scientific-sounding ingredients that help them last indefinitely in packaging. Trying to find whole-grain ones? Good luck.
Our Pick: Wasa® Hearty Grain or Whole Grain ($2.99/21 crispbreads)
Wasa crispbreads are tasty even though they contain just the basics: whole grains, salt, water, and yeast. Their size, hearty crunch, and versatility with toppings make them a good choice for healthy snacks and small meals too!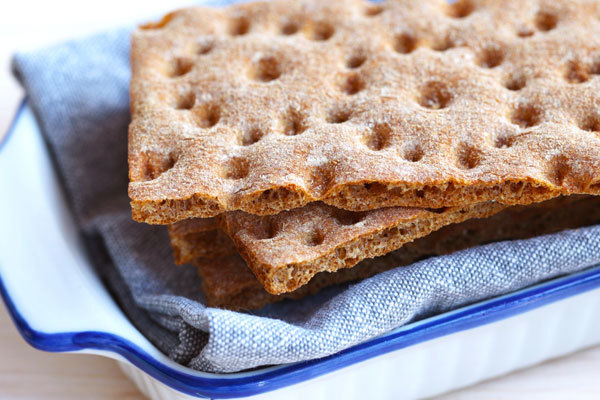 Tortilla Chips
If you want salsa and chips, try baked chips. They're lower in fat than their fried cousins and still have that satisfying crunch.
Our Pick: Guiltless Gourmet® Unsalted ($2.99/7 oz.)
These contain just organic yellow corn, oil (canola, safflower, or sunflower), and lime. With just 26 mg of sodium per serving and 120 calories for 18 chips, you can snack without feeling guilty. We recommend serving the correct portion of chips in a bowl rather than digging into the whole bag.
Beef Jerky
Jerky is made with salt and sugar—there's no getting around that. Avoid brands that use additives like MSG, oleoresin, hydrolyzed soy protein, and sodium erythorbate, and whatever you do, do not snap into a Slim Jim®.
Our Pick: Oberto® All Natural Beef Jerky (6.99/3.25 oz.)
Oberto All Natural Jerkies are seasoned and preserved with ingredients you would have in your own home, like salt, sugar, vinegar, and beef stock. This brand's worst offense is natural smoke flavor. Their turkey jerky is up to snuff as well. Just remember, those small bags are not single servings!
Iced Tea
Tea leaves, water—and voila! How could something so simple have gone so wrong? Look at the ingredients list of many bottled iced teas and you'll see added sugar, sucralose, aspartame, or acesulfame potassium. You'll also see 150 calories and 38 grams of sugar per serving.
Our Pick: Tejava® Iced Tea ($2.09/liter)
We stumbled onto Tejava a few years ago and haven't looked back. When it comes to iced tea, this is our hands-down favorite. This microbrewed black tea is simply delicious and refreshing on ice. It contains nothing but brewed handpicked tea leaves…no sweeteners, no fillers, no added flavors. Just good ol' tea.
YOUR GROCERY STORE GUIDE
Condiments and Spreads:
Ketchup: Whole Foods 365 Organic Tomato Ketchup or Heinz's Simply Heinz Ketchup
Mustard: Morehouse Yellow Mustard
Mayonnaise: Spectrum Organic Mayonnaise
Hot Sauce: Tabasco Pepper Sauce
Soy Sauce: Kikkoman Low-Sodium Soy Sauce or Trader Joe's Low-Sodium Soy Sauce
Peanut Butter: Laura Scudder's All-Natural Peanut Butter
Jam: St. Dalfour or Bonne Maman
Salad Dressing: Annie's Naturals Balsamic Vinaigrette
Dairy and Nondairy:
Greek Yogurt: Fage Total 0% Plain or Chobani Nonfat Plain
Regular Yogurt: DANNON All-Natural Plain Nonfat Yogurt
Cottage Cheese: Daisy Low-Fat Cottage Cheese
Cream Cheese: Organic Valley Cream Cheese or Philadelphia Original Cream Cheese
Half and Half: Horizon Organic Half & Half
Soy Milk: Organic Edensoy
Almond Milk: Pacific Almond Milk
Rice Milk: Rice Dream
Bread Products:
Bread: Food for Life 7 Sprouted Grains Bread
English Muffins: Food for Life 7 Sprouted Grains English Muffins
Whole Grain Tortillas: Food for Life Ezekiel 4:9 Taco Size Whole-Grain Tortillas
Hamburger Buns: Food for Life Sprouted Whole-Grain Burger Buns
Cereal: Engine 2 Rip's Big Bowl (any variety)
Frozen Waffles: Kashi 7-Grain Waffles
Pancake Mix: Baker Mills Kodiak Cakes
Proteins:
Prepackaged Deli Turkey or Ham: Applegate Farms
Vegetarian Burgers: Asherah's Gourmet Vegan Burgers or Original Sunshine Burgers
Hot Dogs: Applegate Great Organic Beef Hot Dogs
Dips, Sauces, and Soup:
Hummus: Haig's Hummus
Applesauce: Santa Cruz Organic Applesauce
Jarred Salsa: Newman's Own Medium Salsa
Soup: Amy's Light in Sodium Soups
Components:
Chicken Stock: Pacific Organic Free Range Low-Sodium Chicken Broth
Vegetable Stock: Kitchen Basics Vegetable Cooking Stock, Unsalted
Breadcrumbs: Ian's Whole Wheat Panko Breadcrumbs
Marinara Sauce: Silver Palate Low-Sodium Marinara Pasta Sauce
Olives: Early California Pitted Kalamata Greek Olives
Snacks:
Crackers: Wasa Hearty Grain or Whole-Grain
Tortilla Chips: Guiltless Gourmet Unsalted
Beef Jerky: Oberto All-Natural Beef Jerky
Iced Tea: Tejava Iced Tea
*This list is not exhaustive and the BeachBody team will continue to update it. If you have a food product you love that's full of whole ingredients, share it below.