Sometimes, the simplest salads are the best. This recipe for Kale Salad with Chicken is one of my favorite 21 Day Fix recipes…it only has only 5 ingredients. Hearty kale is topped with chicken, tomato, and refreshing cucumber slices, and sunflower seeds give it a nutty crunch. It takes just a few minutes to make, so even people with busy schedules can find time to eat this healthy meal. Finish it with a squeeze of lemon.
Tip: Before adding the other ingredients, give your kale a "massage" by rubbing taking the leaves in both hands and rubbing them together. It sound like a strange thing to do, but give it a try. It will make the leaves softer, give it a sweeter taste, and make it easier to digest.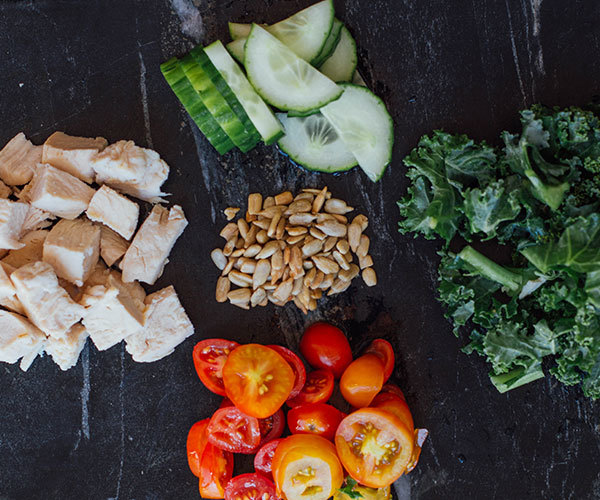 For those following the 21 Day Fix Eating Plan, this salad uses 1 green, 1 red, and 1 orange container.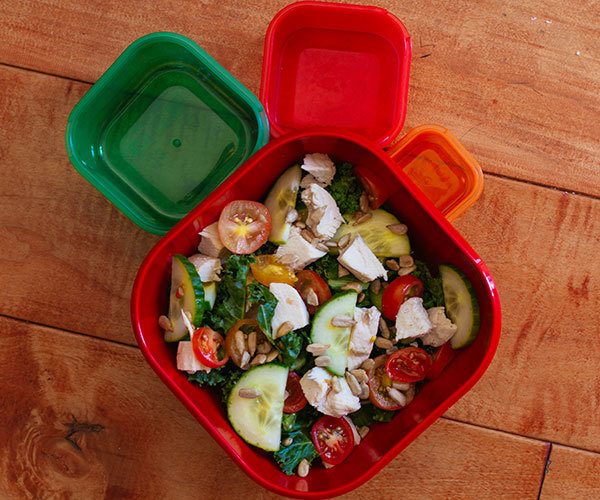 Total Time: 5 min.
Prep Time: 5 min.
Cooking Time: None
Yield: 1 serving
Ingredients:
1 cup chopped fresh kale
¼ cup chopped tomato
¼ cup sliced cucumber
4 oz. cooked chicken breast, boneless, skinless, sliced
1 Tbsp. raw sunflower seeds
Preparation:
1. Place kale in a medium serving bowl.
2. Top with tomato, cucumber, chicken, and sunflower seeds.
3. Top with your favorite dressing and enjoy!