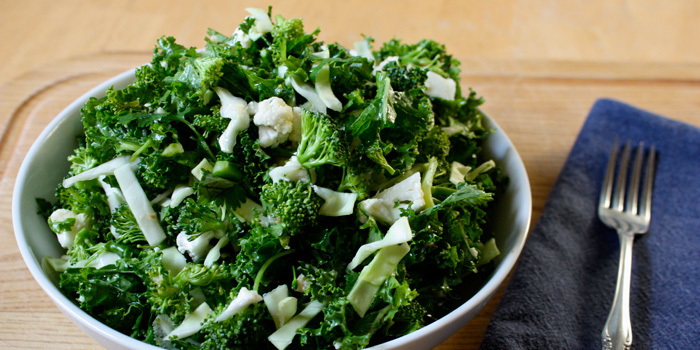 When our bodies become "toxic," it means that our natural means of ushering out metabolic waste from normal human metabolism, environmental pollution, and what has become known as the Standard American Diet (or SAD diet – funny, right!) have exceeded the threshold for what the body's innate detoxification system can tolerate on its own. With this toxic load, every system in the human body can become affected. From our head to our toes and everything in between, toxicity makes us sick!
Hit the ground running and detox your body with this kale salad packed with broccoli, cauliflower, and other nutrient-rich foods.
Total Time: 10 min.
Prep Time: 10 min.
Cooking Time: None
Yield: 1 serving
Ingredients:
2 tsp. extra-virgin olive oil
1 Tbsp. unfiltered raw cider vinegar
2 Tbsp. fresh lemon juice
1 tsp. pure maple syrup
2 tsp. grated fresh ginger
1 pinch Himalayan salt (or sea salt)
2 cups chopped kale
½ cup chopped cauliflower
½ cup chopped broccoli
½ cup chopped cabbage
½ cup chopped fresh cilantro
Preparation:
1. Combine oil, vinegar, lemon juice, maple syrup, ginger, and salt in a small bowl; whisk to blend. Set aside.
2. Combine kale, cauliflower, broccoli, cabbage, and cilantro in a large bowl; mix well.
3. Drizzle cabbage mixture with dressing; toss gently to blend.